We are excited to present our new agency solution - Cobiro CSS. Designed to be your all-in-one agency management tool, Cobiro CSS was made to ease the management of your customers.
After signup, click on Get started to create your workspace.

Select your Cobiro CSS workspace
Click on the drop-down arrow next to Cobiro in the main menu. The second option is your Cobiro CSS workspace, which gives access to your active CSS accounts.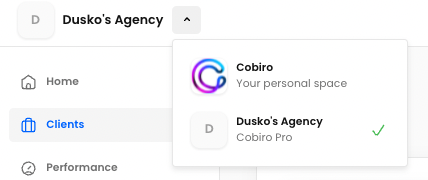 Manage clients with ease
Create, grow, and manage your client portfolio by connecting the tools and apps you want.

Clicking Manage takes you to the individual client site, where you can see their current plan and access Cobiro's tools and apps.
Remember to invite members to your workspace and collaborate.
Google shopping CSS
For more info on the CSS feature click here

You will be prompted to upgrade your plan. Pay monthly, or get a 20% discount if you choose to pay yearly.
Please note, you have to upgrade each active CSS account you'd like to continue running discounted ads for. To do this, simply head back to your client list on your client dashboard and repeat the above steps